Vanguard (Wednesday, 11 January)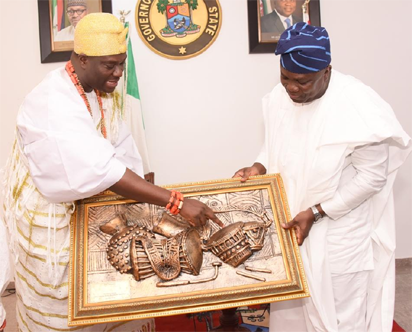 Lagos State Governor, Mr. Akinwunmi Ambode on Wednesday unveiled plans by his administration to integrate the six States in the South West region to the food security drive of the State Government especially in addressing the demand and supply deficit for the overall benefit of the people.

The post Ambode vows to uphold economic growth, cultural heritage of Yoruba nation appeared first on Vanguard News....
To add to this post "Ambode vows to uphold economic growth, cultural heritage of Yoruba nation"; you may share your views in the comments section below or click here for more detailed content.
NigerianTell.com is wholly a Nigeria news reader. We constantly distribute breakin news and information to online readers from a couple of news sources in Nigeria and the world. Follow all the interesting news and information you like and care about in one place on NigerianTell.com.
All copyrights on NigerianTell.com are owned by their respective owners.
Related Posts
Older News
    Peterside: Media Key to Nigeria's Economic Growth THISDAY (Today) - By Eromosele Abiodun The Director General of the Nigerian Maritime Administration and Safety Agency (NIMASA), Dr. Dakuku Peterside has charged the media on fair and balance reportage of economic activities,...
Yoruba leaders meet in Ibadan, strategise on new political agenda The Guardian (Yesterday) - Yoruba leaders, yesterday, met in Ibadan, Oyo State capital to strategise on resetting a new agenda for the race.At the colloquium convened by a political movement, Yoruba Patriots Movement......
Yoruba leaders take on Buhari Vanguard (Yesterday) - BY OLA AJAYI, IBADAN Some Yoruba leaders, including  a  former National Chairman of the All Progressives Congress, Chief Bisi Akande, yesterday, brushed aside their political differences to declare as unacceptable...
Charting the Path to Economic Recovery, Growth THISDAY (Yesterday) - One of the local markets in Lagos…traders are patiently waiting for the buyers Buoyed by the need to get the economy back on the path of recovery and growth, analysts...
2019: Akande, others meet on Yoruba political agenda PUNCH (Yesterday) - OLUFEMI ATOYEBI Major political leaders in the South-West on Saturday met at the launch of a forum called, 'Yoruba Patriots Movement', during which decisions were made on how Yoruba will...
BUHARI VOWS TO DEAL WITH CORRUPT VARSITY OFFICIALS The Nation (Yesterday) - President Muhammadu Buhari yesterday warned that any university council or management found wanting of financial mismanagement or gross moral as well as ethical violations will face the full wrath of...
Emulate Lagos Assembly to promote Yoruba language and culture The Guardian (Yesterday) - The Ooni of Ife, Oba Adeyeye Ogunwusi, OJaja II, has appealed to State Houses of Assembly in the South West to take a cue from the Lagos State House of...
Ooni to celebrate Nigeria's cultural heritage in Oyotunji in USA Vanguard (Yesterday) - oni of Ife, Oba Adejuyigbe Adefunmi II, will be celebrating this year's Nigerian National Cultural Heritage in Oyotunji Village in United States of America. The post Ooni to celebrate Nigeria's...
Dogara, Peterside proffer ways out of recession The Guardian (3 days ago) - Speaker of the House of Representatives, Yakubu Dogara said Nigeria needs visionary leadership and discipline to sustain economic growth as the nation grapples with recession....
Extend Anti-corruption War to Cabinet Members, Yoruba Forum Tells Buhari THISDAY (3 days ago) - Sheriff Balogun in Abeokuta A socio-cultural group, Yoruba Unity Forum (YUF), yesterday called on President Muhammadu Buhari to also beam the searchlight of his anti-corruption crusade on some members of...