Vanguard (Wednesday, 11 January)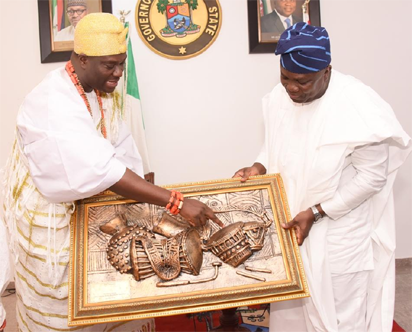 Lagos State Governor, Mr. Akinwunmi Ambode on Wednesday unveiled plans by his administration to integrate the six States in the South West region to the food security drive of the State Government especially in addressing the demand and supply deficit for the overall benefit of the people.

The post Ambode vows to uphold economic growth, cultural heritage of Yoruba nation appeared first on Vanguard News....
To add to this post "Ambode vows to uphold economic growth, cultural heritage of Yoruba nation"; you may share your views in the comments section below or click here for more detailed content.
NigerianTell.com is wholly a Nigeria news reader. We constantly distribute breakin news and information to online readers from a couple of news sources in Nigeria and the world. Follow all the interesting news and information you like and care about in one place on NigerianTell.com.
All copyrights on NigerianTell.com are owned by their respective owners.
Related Posts
Older News
Shallow seaports worsen nation's economic woes The Guardian (Yesterday) - Owing to their shallow water challenges, the nation's seaports are not contributing optimally to the growth of the economy....
Beneficiaries get CBN, Heritage Bank's N3b youth fund The Guardian (Yesterday) - The disbursements for the N3 billion Youth Innovative Entrepreneurship Development Programme (YIEDP) by the Central Bank of Nigeria (CBN), in conjunction with Heritage Bank Plc......
Economy: Dangote Calls For More Funding To SMEs For Growth Leadership (Yesterday) - Richest man in Africa and the president of Dangote Group, Aliko Dangote has called for more funding to the small and medium scale enterprises (SMEs) for the purpose of stimulating...
Yoruba re-awakening: When Adebanjo rallied Yoruba leaders on issues of common interest Tribune (2 days ago) - Afenifere leader, Chief Ayo Adebanjo, last Wednesday, at his Lekki, Lagos, home played host to an array of Yoruba leaders from various groups and organisations to brainstorm on how to...
FG vows to punish erring hospitals, other health institutions New Telegraph (2 days ago) - The Minister of Health, Prof. Isaac Adewole, has expressed the Federal Government's readiness to penalise erring hospitals and health institutions, across the country. The minister, who made this vow recently...
Nobel Carpets, Travel Next Door Kick off Contest THISDAY (2 days ago) - Nobel Carpets and Floors, indigenous maunfacturers of all kinds of rugs and carpets and an online travel agency, Travel Next Door, have announced the opening of 'My Nigeria Travel Story'...
I attended Akeredolu's inauguration for Yoruba unity — Fayose The Herald (3 days ago) - Gov. Ayo Fayose of Ekiti said on Friday that he attended the inauguration of Gov. Rotimi Akeredolu of Ondo for Yoruba unity. Fayose, a prominent member of the opposition Peoples...
Malabo Declaration: AU agric stakeholders assure FG of economic growth Vanguard (3 days ago) - The African Union Commission agricultural stakeholders have assured the Federal Government of economic growth if Malabo declaration initiative is implemented in Nigeria.The post Malabo Declaration: AU agric stakeholders assure FG...
Ambode constitutes new board of trustees for glover memorial hall The Nation (3 days ago) - The Lagos State Governor, Mr Akinwunmi Ambode has approved the constitution of a new Board of Trustees for the Glover Memorial Hall to be chaired by Chief Oluyomi Abayomi Finnih....
Nigeria needs point of entry tourist visa policy —Publisher, Come to Nigeria Tribune (3 days ago) - A diaspora tourism advocate and promoter of Nigerian rich cultural heritage and , Mr Oladimeji Adisa has called on the Federal Government to see tourism as the alternative economic solution...