Vanguard (Saturday, 12 August)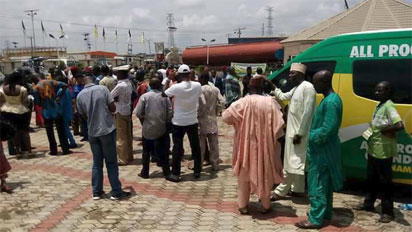 The All Progressives Grand Alliance, APGA, has expelled three of its former national officers, Dr. Ike Oye, Alhaji Abubakar Adamu and Uchenna Okogbuo, from the party.

The post APGA expels three former officers appeared first on Vanguard News....
To add to this post "APGA expels three former officers"; you may share your views in the comments section below or click here for more detailed content.
NigerianTell.com is wholly a Nigeria news reader. We constantly distribute breakin news and information to online readers from a couple of news sources in Nigeria and the world. Follow all the interesting news and information you like and care about in one place on NigerianTell.com.
All copyrights on NigerianTell.com are owned by their respective owners.
Related Posts
Older News
Anambra guber: How PDP will defeat APGA, APC – Prof. Nwosu Daily Post (Today) - Professor Alphonsus Nwosu, a former Minister of Health, has revealed how the Peoples Democratic Party, PDP, will win the November 18 Anambra governorship election. He​ ​said PDP has started winning...
APGA crisis: Agbaso approaches S-Court Vanguard (Yesterday) - The leadership crisis rocking the All Progressive Grand Alliance, APGA, is far from being over as the faction led by Chief Martin Agbaso has approached the Supreme Court, seeking nullification...
Kwara APGA passes vote of confidence on national leadership Tribune (Yesterday) - ALL Progressives Grand Alliance (APGA) in Kwara state has passed a vote of confidence on leadership of the national chairman of the party, Dr Victor Ike Oye. It is recalled...
Italy expels Moroccans, Syrian as terror fears mount PUNCH (2 days ago) - Italy expels Moroccans, SyrItaly said Saturday it had deported two Moroccans and a Syrian on security grounds, lifting to 202 the number of potentially dangerous Islamists expelled since January 2015....
Intrigues, power play as Obiano picks APGA ticket Vanguard (3 days ago) - THE incumbent governor of Anambra State, Chief Willie Obiano, has been nominated the flag bearer of All progressives Grand Alliance, APGA, for the November 18, 2017 governorship election in the...