Vanguard (Saturday, 12 August)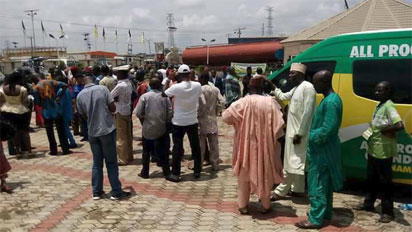 The All Progressives Grand Alliance, APGA, has expelled three of its former national officers, Dr. Ike Oye, Alhaji Abubakar Adamu and Uchenna Okogbuo, from the party.

The post APGA expels three former officers appeared first on Vanguard News....
To add to this post "APGA expels three former officers"; you may share your views in the comments section below or click here for more detailed content.
NigerianTell.com is wholly a Nigeria news reader. We constantly distribute breakin news and information to online readers from a couple of news sources in Nigeria and the world. Follow all the interesting news and information you like and care about in one place on NigerianTell.com.
All copyrights on NigerianTell.com are owned by their respective owners.
Related Posts
Older News
Ariaria APGA members decamp to PDP Daily Times (Yesterday) - More than 200 members of the All Progressives Grand Alliance (APGA) have declared for the Peoples Democratic Party (PDP.Speaking during the occasion that held at the party's secretariat in Umuahia...
CD expels Gen Sec for backing Buhari's second term New Telegraph (3 days ago) - For allegedly rooting for a secondtermfor President Muhammadu Buhari's second term in office, General Secretary of a rights group, theCampaignfor Democracy (CD), Mr Obi Goodluck was at the weekend expelled...