Vanguard (Saturday, 12 August)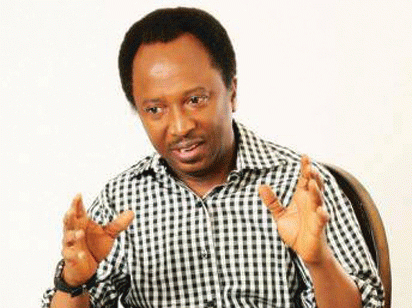 Senator Shehu Sani, representing Kaduna Central constituency at the National Assembly has condemned "Quit notice" given to northerners living in the South South.

The post Shehu Sani condemns quit notice given to northerners living S/South appeared first on Vanguard News....
To add to this post "Shehu Sani condemns quit notice given to northerners living S/South"; you may share your views in the comments section below or click here for more detailed content.
NigerianTell.com is wholly a Nigeria news reader. We constantly distribute breakin news and information to online readers from a couple of news sources in Nigeria and the world. Follow all the interesting news and information you like and care about in one place on NigerianTell.com.
All copyrights on NigerianTell.com are owned by their respective owners.
Related Posts
New In Last Hour
Buhari's speech: Shehu Sani reacts Daily Post (Today) - Senator Shehu Sani representing Kaduna Central Senatorial district has said that President Muhammadu Buhari's speech on Monday has shown that he is manifestly a nationalist. In his reaction which he...
Older News
Quit notice: Nigerians can live anywhere — Buhari Vanguard (Today) - PRESIDENT Muhammad Buhari has warned that the unity of Nigeria has been a concluded issue as it has become non negotiable and that Nigerians have the right to live in...
Issues before Buhari Vanguard (Yesterday) - Undoubtedly the greatest challenge facing the president would be a response to the agitation in the country for restructuring as represented by the quit notice to the Igbo in the...
Benue govt denounces quit notice on herdsmen Tribune (Yesterday) - GOVERNOR Samuel Ortom of Benue State has distanced the state  from the quit notice slammed on herdsmen by a group called the Middle Belt Renaissance Forum. A statement  by the...
Enemies of restructuring behind quit notice in Niger Delta —PANDEF leaders Tribune (Yesterday) - LEADERS of the Pan-Niger Elders Forum (PANDEF), on Saturday, reassured Yoruba, Hausa, and other non-indigenes resident in the Niger Delta of their safety. The leaders spoke against the background of...
Revealed: Why Arewa Youths won't withdraw Igbo quit notice Tribune (Yesterday) - FRESH facts have emerged on why the Coalition of Arewa Youth Council (AYC) may not reverse its October 1, 2017 quit notice deadline to Igbo residents in the North, just...
Benue denies giving quit notice to Fulani herdsmen New Telegraph (Yesterday) - The Benue State Government yesterday distanced itself and its citizens from the quit notice issued to Fulani herdsmen in the state by a group called "Middle Belt Renaissance Forum" urging...
Delta Monarchs call for unity among Nigerians The Guardian (Yesterday) - The Delta State Traditional Rulers Council have condemned in very strong terms the quit notice by Arewa Youth and the increasing spate of hate speeches across the country....
An Incautious Retaliatory Quit Notice THISDAY (2 days ago) - In an attempt to fight back, the Niger Delta militants recently issued a retaliatory quit notice to the northerners living in their region. However, in their own retaliation, the order...
Ortom distances self from quit notice to herdsmen The Guardian (2 days ago) - The Benue State Governor, Samuel Ortom has distanced himself and the state from a quit notice reportedly issued to herdsmen by a group-the Middle Belt Renaissance Forum....